Saturdays with the Stulberg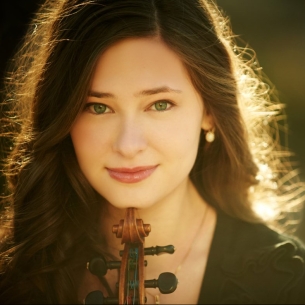 November 19, 2022
Join us for our third annual Saturdays with the Stulberg event, featuring 2013 Silver Medalist Ariel Horowitz. This online recital series highlights past Stulberg winners and gives the audience the opportunity to reconnect with these young artists to see where they are today!
Grab a cup of coffee and settle in for a wonderful recital with Ariel!
Hailed by The Washington Post as "Sweetly Lyrical," violinist Ariel Horowitz cannot remember life before loving music. In October of 2020, Ariel won the Concert Artists Guild Ambassador Prize and joined the Concert Artists Guild roster. A recent graduate of the Yale School of Music under the tutelage of Ani Kavafian, Ariel previously studied with Itzhak Perlman and Catherine Cho at The Juilliard School. Ariel is a prizewinner of the Grumiaux, Stulberg, and Klein International Competitions as well as the Salon De Virtuosi Career Grant. In the Fall of 2019, Ariel joined the faculty of Mount Holyoke College, teaching violin and chamber music.
Ariel enjoys an active concert schedule, frequently programming beloved staples of the classical canon alongside both lesser-known works by composers from backgrounds historically underrepresented in classical music as well as her original songs for violin with voice. She has performed as a soloist with orchestras such as the Baltimore Symphony Orchestra, the Kammerphilharmonie Hamburg, and the Santa Fe ProMusica Orchestra, and in recitals across the United States, Europe, Israel, and South America. In recent seasons, Ariel premiered her original works at Carnegie Hall's Weill Hall and the Kennedy Center's Terrace Theater. In 2017, Ariel traveled to Auschwitz with with Eva Kor, a survivor of both the Holocaust and the medical experiements performed on twins by the infamous Dr. Joseph Mengele. During this trip, she performed a short concert alongside bassist Sebastian Zinca featuring an original co-composition for violin, bass, and spoken word for Kor on the selection platform, or in Eva's words, "the final place that I saw my family." This performance was broadcast on The Violin Channel, and the duo performed this music across Poland. Alongside several of her friends, Ariel performed compositions by the students of Daniel's Music Foundation – an NYC based organization providing music education to the disability community – with DMF students in both the DMF 2017 NYC Gala and at a concert organized by Ariel and her friends at The Juilliard School. In 2013, Ariel and two of her colleagues organized a concert and food drive during their first semester at The Juilliard School to benefit the Food Bank For New York City.
Ariel is the Founder and Artistic Director of The Heartbeat Music Project, a tuition-free program providing instruments, music, and Navajo (Diné) cultural knowledge to young people in grades K-12 living in the Navajo Nation. Central to HMP's mission is the acknowledgment of the impact of past and present colonialism to Indigenous peoples and respectful engagement with Diné music, cultures and customs. Since its inception in 2016, the Heartbeat Music Project has grown to serve over sixty students and their families with year-round music education, including the annual Summer Academy, Winter Program, and lessons for students in violin, piano, guitar, oboe, recorder, voice, jazz band, and cultural learning with Diné Cultural Knowledge Holder, Executive Director Sharon Nelson. During the era of COVID-19, the Heartbeat Music Project shifted its focus to address the dire pandemic-related needs of the Navajo Nation. Through HMP's efforts, including a benefit concert featuring HMP students and teachers as well as the music of both European and Diné composers generously streamed by The Violin Channel, HMP has raised nearly eight thousand dollars for Navajo Nation COVID-19 Relief efforts. In 2020, The Heartbeat Music Project became the home of the American Indian Musicians' Scholarship, a program founded by HMP Teaching Artist Renata Yazzie, Diné pianist and ethnomusicologist. AIMS seeks to provide funding for college-aged Indigenous music students, and in November of 2020, HMP and AIMS hosted a benefit concert performed entirely by Indigenous musicians and was successful in raising over five thousand dollars for the first round of scholarship awards in 2021. The Heartbeat Music Project is a grateful recipient of The Lewis Prize for Music COVID-19 Community Response Fund, The Mockingbird Foundation Prize, the From the Top Alumni Leadership Award, and The Juilliard School Community Engagement and Entrepreneurship Grants.
At home in a variety of musical genres and disciplines including improvisation, Ariel has performed with artist-activists such as Dr. Bernice Johnson Reagon of Sweet Honey in the Rock, Toshi Reagon and BIGLovely, Holly Near, and Pete Seeger. In 2020, the band Empire Wild organized a holiday-themed video performance of the song 'Winter Wonderland' performed by Ariel and some of her colleagues on the Concert Artists Guild roster which was featured by The Strad. She has given masterclasses and lectures for The Teaching Tonic, Through the Staff, String Insiders, Idyllwild Arts Summer Program, and the Indiana University Summer String Academy. She has attended festivals and masterclasses such as The Perlman Music Program, Mozarteum Salzburg, Keshet Eilon International Master Course, Four Seasons Chamber Music Festival Winter Workshop, Yellow Barn Young Artists Program, and Orford Music Centre, performing alongside artists such as Vadim Gluzman, Michael Kannen, Steven Tenenbom. In the summer of 2020, were it not for the coronavirus pandemic, Ariel would have enjoyed her position as a fellow of the Norfolk Chamber Music Festival.
When she is not making music, Ariel enjoys cooking, reading, practicing yoga, painting, and spending time with her incredible family and friends. During the pandemic, Ariel is proud to have enjoyed several fantastic shows (some in their entirety), including The Queen's Gambit, Fleabag, Schitt's Creek, Working Moms, The Great British Baking Show, Dance Moms, The Crown, and of course a re-watch of her favorite show of all time, Parks and Recreation.