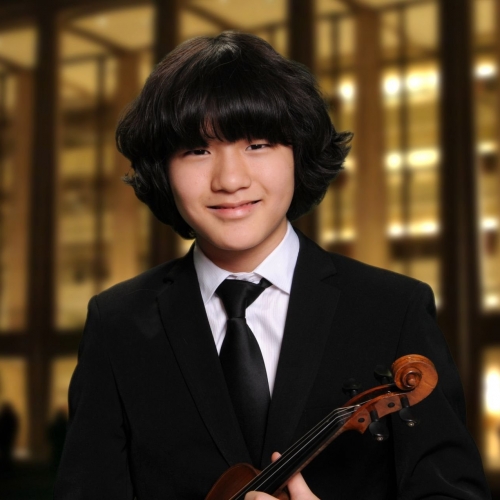 Bobby Boogyeom Park
2021 Bronze Medalist
Bayside, NY
violin
Bobby Park, 15 (Seoul, Korea) moved to the United States in 2017 to study violin with Ms. Catherine Cho at Juilliard Pre-College. He began also studying with Mr. Donald Weilerstein in 2017.
Bobby began playing the violin at the age of 7. He has been a guest soloist at international concerts and festivals including the Shanghai International Arts Festival at Oriental Art Center in Shanghai.
He has also performed with the Russian Symphony Orchestra in Moscow and New Shanghai Orchestra. He won first prize at the 14th IRRCMC Competition in Moscow. He won first prize at the 8th New York International Music Competition (Lincoln Center) and first prize and Judge's Distinction Award at the American Protégé International Competition (Carnegie Hall).
As first-prize winner at the NYCP Orchestra Concerto Competition, he performed with the NYCP Orchestra twice (Liederkranz Hall, Carnegie Hall). Bobby was the first-place winner of the Juilliard Pre-College Concerto Competition. He was awarded both the first and grand prize for the CAI Competition and performed with the CNJ Orchestra (Merkin Hall).
Bobby was featured in the Stars of Tomorrow concert twice at the Heifetz Institute. He is a member of CIM and regularly performs. Bobby was featured on the NPR radio program "From the Top" with violinist Tessa Lark. He was selected as a student in Dorothy DeLay Master Class Series with Vadim Repin. Bobby is also scheduled to perform with Maxim Vengerov and five other Pre-College students collaborating with the Oxford Philharmonic Orchestra in Carnegie Hall this upcoming June.