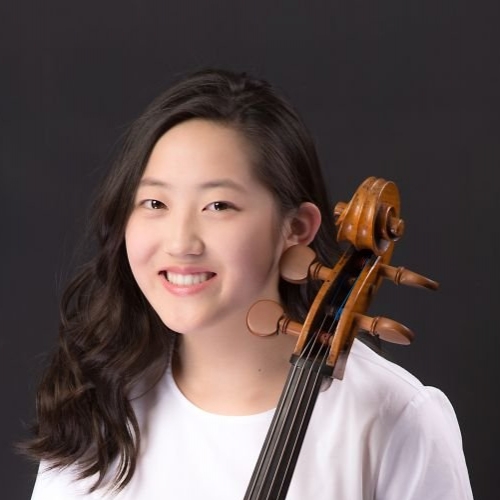 Chelsie Lim
2021 Finalist
Cresskill, NJ
cello
Chelsie Lim, 16, was born in Australia. She moved to the United States at the age of 3, and began learning cello from her mother at 8. She was accepted into the Pre-College program at the Juilliard School of Music in 2015 at 10, where she began her studies with Clara Kim. 
Chelsie was a semi-finalist of the 10th International Tchaikovsky Competition for Young Musicians in Astana, Kazakhstan (2017). She was awarded a scholarship to the HeifetzPEG program of the Heifetz International Music Institute in Staunton, Virginia (2017), and was chosen to perform in their "Stars of Tomorrow" concert series. 
Chelsie was a Gold Medalist of the Bravura Philharmonic's 10th annual Young Artists Concerto Competition (2018). She was the 1st place winner of Lyra Music Competition (2019), and a gold medalist with high distinction in the 3rd Berliner International Music Competition (2019). Chelsie was named a YoungArts Honorable Mention Winner in 2020 and a YoungArts Finalist for the 2021 season. She is also a recipient of the Grace Gimbel scholarship (2020). She was the first place winner of the Caprio Young Artists Competition (2020). Chelsie was a participant of the Morningside Music Bridge summer festival, a full-scholarship program, in Warsaw, Poland (2018). She is now a participant of the Perlman Music Program, led by Toby and Itzhak Perlman. 
Chelsie has studied and participated in master classes with cellists Laurence Lesser, Colin Carr, Steven Doane, Yu Wei, Kirill Rodin, Zvi Plesser, and Astrid Schween. She is also a founding member of Ponticelli Music, a nonprofit organization dedicated to sharing music and creating a difference in the community. Her string quartet at Juilliard Pre-College was invited to perform in the 19th annual Juilliard ChamberFest 2020. Orchestrally, she was a principal cellist of the Pre-College Symphony at the Juilliard School of Music in 2018 and 2019.