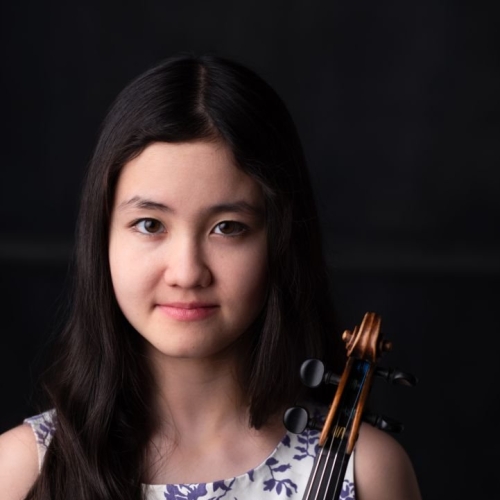 Esme Arias-Kim, 17
2023 Silver Medalist
United States
violin
Esme Arias- Kim, 17, is currently studying at the Colburn Music Academy as a Thibaudet Scholar with Robert Lipsett. She previously studied with Almita Vamos and Betty HaagKuhnke. Most recently Esme received first place in the Crain-Maling Foundation Chicago Symphony Orchestra Young Artists Competition and will be soloing with the Chicago Symphony Orchestra in the 2023-2024 season as well as the Minnesota Orchestra after receiving first place in their young artists competition. Later this year she will solo with the Northwest Indiana Symphony and the New Philharmonic. Other first place awards include the Sphinx Competition, Southern California Philharmonic, Walgreens National, International Young Artist, Arthur D. Montzka, ASTA, Musicians Club of Women, Fox Valley, Enkor International, New York International Artist Association, Sejong, Confucius, DePaul Concerto Festival and Illinois MTNA competitions.
Esme made her solo orchestral debut at the age of ten with the Oistrakh Symphony and has continued to make solo orchestral appearances with the Buffalo Philharmonic Orchestra, Civic Orchestra of Chicago, Fairbanks Symphony Orchestra, Southern California Philharmonic, New Philharmonic, Chicago Arts Orchestra, Kishwaukee Symphony Orchestra, Sinfonia da Camera, Fox Valley Orchestra, Ottawa Chamber Orchestra, Midwest Young Artists Symphony Orchestra, Lincolnwood Chamber Orchestra, Accademia d'Archi Arrigoni Orchestra, as well as solo recitals at Weill Recital Hall at Carnegie Hall, Peninsula Music Festival in Door County WI, Chicago Cultural Center, 92Y New York, and Musikferien at Starnberger See in Germany. Radio performances include a recital on Chicago's classical radio station WFMT's "Introductions" and NPR's "From the Top".
Esme has received masterclasses from Hilary Hahn, Midori Goto, Julia Fischer, Ian Swensen, Vadim Gluzman, Kirill Troussov, Noah Bendix-Balgley, Paul Huang, Fabiola Kim, Grigory Kalinovsky, Mihaela Martin, Ilya Kaler, Philip Setzer, as well as the Borromeo Quartet and Cavani Quartet.
Esme is playing on a violin by Alfredo Contino 1920, courtesy of Guarneri Hall NFP and Darnton & Hersh Fine Violins, Chicago.
Outside of music, Esme enjoys listening to true crime podcasts, visual art, cooking, and writing.