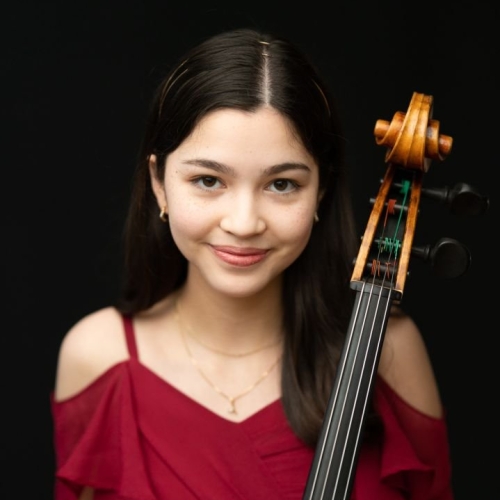 Starla Breshears, 15
2023 Bronze Medalist
United States
cello
Starla Breshears, cellist, age 15, began cello lessons at age 3 with Yoshie Muratani. By the age of 6 Starla started studying with her current teacher, Jean-Michel Fonteneau at the San Francisco Conservatory of Music, Pre-college. Starla has been coached by Christine Walevska and Sergei Riabtchenko and has performed for masterclasses with Sheku Kanneh-Mason, Alisa Weilerstein and Amit Peled.
Starla has soloed with 12 different orchestras since the age of 6 including the California Youth Symphony, Palo Alto Philharmonic, Symphony Parnassus, and the Nova Vista Symphony. She has won 1st prize in over a dozen solo competitions including 1st Place ASTA State Solo Competition, 1st place Pacific Musical Society & Foundation Competition and Grand Prize in the Diablo Valley College / Holy Names University Young Artist Competition for which she will be performing the Beethoven Triple Concerto with the DVC Orchestra in October.
Starla's sibling string quartet, the Breshears Quartet, has been featured twice on the Violin Channel as Rising Star of the Week and on From the Top. The Quartet recently won 1st Prize in the Piero Farulli International Competition for Young String Quartets and as winners they will be giving several concerts in Italy this September.
As one of the youngest Beares International Violin Society Young Artists, Starla was the loan recipient of a 1/2 size 19th century Hill cello and a 3/4 size 1808 Lorenzo Ventapane.
In 2022 Starla joined the Yellow Barn Young Artist Program and is returning for the summer of 2023.