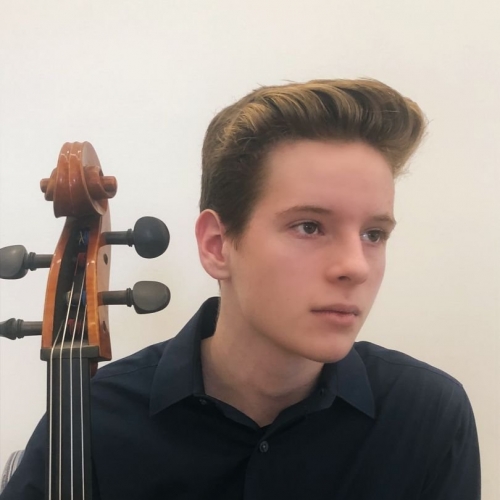 Vincent Garcia-Hettinger, 16
United States
cello
Vincent Garcia-Hettinger, age 16, is a student of Ken Freudigman. Vincent began his cello studies at the age of five and made his solo debut with the San Antonio Symphony in May 2019. Most recently, Vincent was named a recipient of the Jack Kent Cooke Young Artist Award through From The Top. Vincent was also a finalist for the 2021 Ronald-Sachs International Music Competition, he was accepted into the 2022 Tchaikovsky Competition for Young Musicians, and he was named a 2022 National YoungArts Foundation winner. In 2020 Vincent was named the winner of the Ann Arbor Symphony Young Artist Competition. That same year, Vincent worked with international soloist Johannes Moser in a series of private lessons through the Virtumasterclass program. He has twice been named a Junior Division Semi-Finalist for the Sphinx Competition.
Vincent attended the Bowdoin International Music Festival and studied with Steven Doane and David Ying. He also attended the Heifetz Institute in 2020 and studied with Steven Doane, Rosemary Elliott, Clara Kim, Laurence Lesser, and Peter Stumpf. He was a recipient of the 2020 Texas Commision on the Arts Young Master's Award. In 2019, he attended the Sphinx Performance Academy at Juilliard and he was awarded a Sphinx MPower Artist Grant. In 2018, Vincent was selected as the winner of the Interlochen Concerto Competition.
Vincent has played for the following artists in masterclasses and lessons: Andrei Ionita, Natasha Brofsky, Edgar Moreau, Brannon Cho, Astrid Schween, Melissa Kraut, Thomas Mesa, Christine Lamprea, and Jeffrey Zeigler.