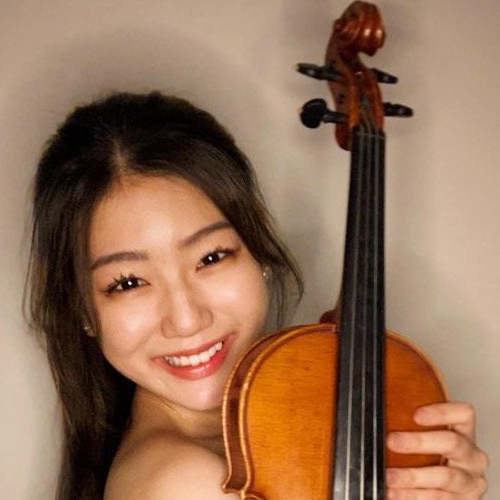 Blaire Kim, 19
South Korea
violin
Nayoun was born in South Korea and began playing violin at the age of four. She was admitted to the Yewon Arts Middle School before she got admitted into the Pre-college division of The Juilliard School at the age of twelve where she currently studies with Professor Li Lin.
She was awarded both the first and grand prize of for the CAI International Competition (2021), winner for the Juilliard Pre-College Concerto Competition (2019), finalist for From the Top, and also won a 5th Hong Kong International Violin Competition when she was eight years old.
Nayoun has also won a number of National Competitions while she was living in Korea including getting featured on the Korean Educational Program as the violin prodigy when she was 9 with her mentor/ professor Ik-Hwan Bae, and Korean Youth Newspaper as the grand-prize winner of their competition, resulting a scholarship.
Nayoun has performed in variety of places. She has toured internationally with orchestras such as An Die Musik Philharmonia and the Lviv Philharmonic Orchestra in Korea and the Ukraine. She was a performer for the Young Tchaikovsky International Violin Competition's opening ceremony in Seoul, South Korea.
Nayoun was selected as one of twelve in Crans-Montana Summer Camp hosted by Maestro Shlomo Mintz at the age of 12 and she is planning to attend the Perlman Music Program starting this summer 2021. 

Nayoun is currently a junior in Academy of the Holy Angels, Demarest New Jersey.