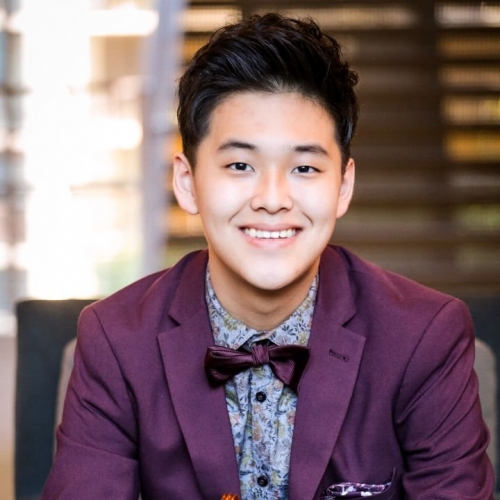 Daniel Bae, 19
2022 Gold Medalist
United States
violin
Violinist Daniel Bae, 19 from Lubbock, TX, is a freshman at the Juilliard School in New York, NY where he studies with Li Lin.  Previously, he studied with Robert Lipsett and Emanuel Borok.
Daniel began playing the violin at the age of 5 and his musical talent and passion has been recognized. The honors include Finalist in the Juilliard Violin Concerto Competition (2022), Grand Prize in the Music Center's Spotlight Competition (2021), Grand Prize Winner in the Vernell Gregg Young Artist Competition (2021), Grand Prize in the Dallas Symphony Orchestra's Lynn Harrell Concerto Competition (2020), Grand Prize in the Fort Worth Symphony Orchestra's Young Artist Concerto Competition (2019), First Place in the Colburn Music Academy Concerto Competition (2017), the Jack Kent Cooke Young Artist Award (2016), Arkady Fomin Scholarship (2016), First Place Winner in the ENKOR International Music Competition (2016), First Place Winner in the Houston Civic Symphony Young Artist Competition (2015), and First Place Winner in the American Protégé International Concerto Competition (2015).
Daniel made his solo debut at the age of 11 with the Youth Orchestra of Lubbock.  Since then, he performed with many orchestras around the country including Fort Worth Symphony Orchestra, Colburn Virtuosi Orchestra, Lewisville Lake Symphony Orchestra, Fort Bend Symphony Orchestra, Houston Civic Symphony Orchestra, and Flower Mound Symphony Orchestra.  He played in numerous masterclasses led by renowned musicians such as Ray Chen, Bing Wang, Noah Bendix-Balgley, Christoph Poppen, Robert McDuffie, Paul Kantor, Kirill Troussov, Charles Castleman, and Ivan Zenaty.