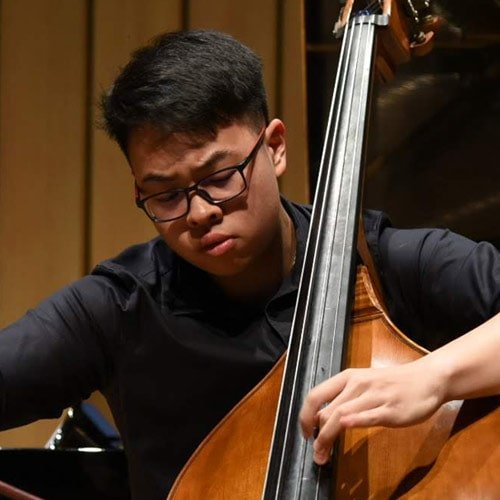 Evan Tsai
double bass
Evan Tsai, 18, grew up in Taipei, Taiwan, and moved to Baton Rouge, Louisiana in his childhood. Currently, he is a senior and Oscar Tang Scholar at Phillips Academy Andover. Evan began his musical training on piano and cello when he was 4 years old with his mother, Taiwanese-American bassist Yung-Chiao Wei. He started playing the double bass when he was 13 years old and made his debut performance with the Louisiana Philharmonic Orchestra as a winner of the LPO's Young Artist Concerto Competition after only playing the bass for 10 months. His awards include 3rd Prize Winner of the 2017 International Society of Bassist Solo Competition Age 14 and Under, Finalist and Honorable Mention of the 2019 ISB Solo Competition Age 15-18, winner of the National YoungArts Foundation (2018-2020), 2018 Monroe Symphony League Emerging Artists 3rd Prize, 1st Prize Winner of the 2018 Louisiana Bass Fest Age 18 and Under, Silver Medal Recipient in the 4th Manhattan International Music Competition String division, and the 2019 New Taipei City Music Stars Competition, which resulted a solo recital in the New Taipei City Arts Center sponsored by the New Taipei City Government and the New Taipei City Department of Culture Affairs.
In 2020, Evan was awarded the 3rd Prize at the Boston Symphony Orchestra's Young Artists Concerto Competition, 3rd prize in the Dallas Symphony Orchestra's Lynn Harrell Concerto Competition and was selected to participate in NYO-USA. His piano trio, the Phillips Trio, was awarded the Gold Medal in the 2020 Fischoff National Chamber Music Competition in the Junior Strings Division. He was also recently selected as a 2021 U.S. Presidential Scholars candidate.
Evan was invited to participate in the 2018 YoungArts Miami Conference, which culminated in a concert in the Miami Theater. He also toured throughout Taiwan that year, ending in his debut at the National Concert Hall in Taipei, Taiwan. In 2019, he performed solo recitals in the New Taipei City Arts Center and debuted in the National Kaohsiung Center for the Arts, Weiwuying.
As an orchestral musician, Evan was the principal bassist of the Louisiana Youth Orchestra from 2017-2018 and the Phillips Academy Chamber Orchestra and Symphony Orchestra in 2018-2019. He joined the Boston Philharmonic Youth Orchestra in 2018 under Maestro Benjamin Zander, and is currently the principal cellist of the Phillips Academy Orchestras. He is currently studying double bass with Lawrence Wolfe and Yung-chiao Wei, and cello with Jan Müller-Szeraws.