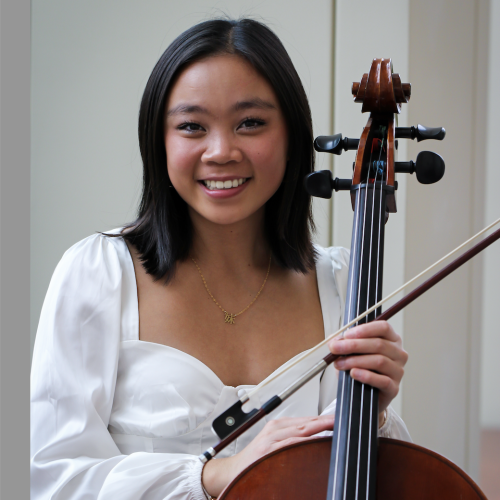 Melanie Chen, 19
United States
cello
19-year-old cellist Melanie Chen hails from Needham, MA and began cello lessons with Andrew Mark at age 5. She now studies with Felix Wang at Vanderbilt University as a recipient of the Blair Academic Achievement Scholarship and Chris Teal Award. She is planning a double major in Cello Performance and in Human and Organizational Development.
Recent accolades include 3rd Place in the 2022 MTNA National Young Artist String Competition, Winner in the 2022 Vanderbilt University Orchestra Concerto Competition, and 1st Place in the 2021 University of Massachusetts Young Artists Award Competition.
A dedicated orchestra and chamber musician, she toured internationally with the Boston Philharmonic Youth Orchestra under Benjamin Zander, and was selected as the cellist of the Rivers School Conservatory Honors Quartet under Bruce Coppock. Melanie played chamber music for five summers at Greenwood Music Camp, and attended Aspen Music Festival in Summer 2022 while studying with Eric Kim and Darrett Adkins.
Melanie will attend the Sarasota Music Festival in Summer 2023.
Outside of music, Melanie is a proud member of the Vanderbilt Spirit Team as a flyer on the Cheer Team, and enjoys traveling, baking, and writing.