Encore Magazine – Back Story Megan Yankee, Executive Director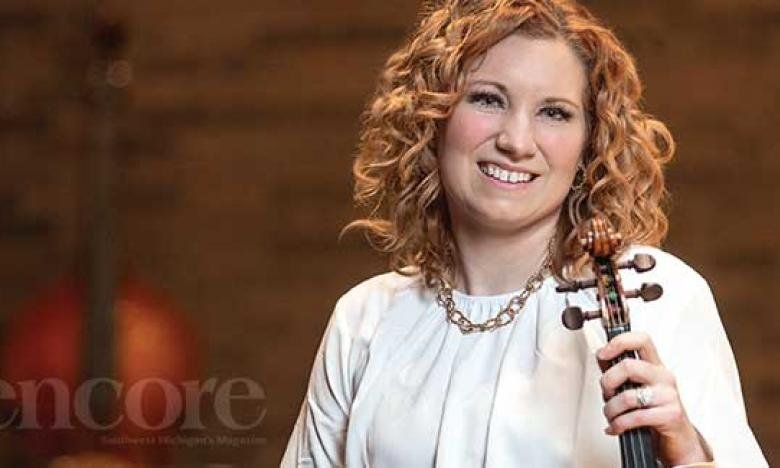 Megan Yankee, Executive Director, Stulberg International String Competition.© 2021 Encore Publications/Brian Powers
The forced pivot that Covid-19 imposed on many arts organizations has been hard and painful, but the Stulberg International String Competition has found a silver lining.
Last year the competition drew more than 6,000 viewers when it was streamed online, and this year participant applications soared. "We had a record-breaking number of applications this year — 226 — which is a big number for us," says Megan Yankee, who oversees the annual, internationally recognized competition for young string musicians that takes place this month. "The ability to compete online also has meant we've had a lot more students from all over the globe applying."
Yankee, who took over the helm of the Stulberg a few short months before last spring's Covid-19 shutdown, says the organization had to adjust quickly, switching plans for its live, in-person competition to be conducted online, which was a challenge she enjoyed.
"We only had a month to change course, and there was no precedent for what to do," she says. "I tend to be an innovative, big thinker and that fit really well for this, and I have been supported and encouraged to do that. Margaret Hamilton (the former executive director) left big shoes to fill, but I was able to come in and really do me, which feels good. It's been fun."
How did you get where you are today?
I started out playing piano in third grade and instantly loved it. In sixth grade we had to pick an instrument for orchestra. I chose the violin and instantly loved it too. My dad is a Highland bagpiper, and I grew up playing traditional Irish and Scottish fiddle music. I got super into that in middle school and high school, touring and playing all over while also keeping up with the classical violin lessons.
When I auditioned for the music performance program at Western Michigan University, my first piece was by Mozart and my second piece was Irish fiddle tunes. They were like, "Who is this person auditioning with Irish fiddle tunes?" I got in, but halfway through (college) realized I didn't want to perform for a living, so I finished with an arts administration degree.
After college, I performed professionally and taught violin and fiddling. I got a job in marketing at Detroit Chamber Winds & Strings and hoped to work my way up in the arts scene, but there's just not a lot of jobs, so I branched out and went to work in fundraising for the Phoenix Society for Burn Survivors, a wonderful nonprofit in Grand Rapids that helps burn survivors with emotional recovery, not just physical recovery. After a while there, I went to work for the Boy Scouts of America in a new position at the state level called "innovations marketing manager," where I had free rein to think outside of the box to make scouting more appealing to young families.
One of the things I did was create a farm out at (the former) Rota-Kiwan (Boy) Scout Camp (in Texas Township), with chickens, a hoop house and a whole farm-to-table concept and programming. From there I went to the Community Healing Centers in fund development, and while I loved my job there, the Stulberg position came open and my goal was always to do this kind of arts administration. I got the job and have loved every minute — it's like coming home, being back working in the arts while getting to use all the knowledge I've learned from the other nonprofits where I've worked.
How did the Stulberg handle the 2020 competition during a pandemic?
I think the timing was good for Stulberg to have somebody like me in that position. I'm an outside-of-the-box thinker and able to pivot quickly. When everything started shutting down, and everybody was canceling everything, I said, "What if we did it online?" Some people thought I was crazy and that we should just cancel it, but we did it online and had over 6,000 viewers from all over the world — the most we've ever had.
What changes did you make after your experience last year?
Last year we used application videos for part of the competition, and then, instead of competing live, we had the semifinalists record a solo Bach piece at home. Because we had more time this year, we wanted to even the playing field, because (last year) some students had access to really nice recording equipment and some didn't. This year each semifinalist gets a $750 stipend to help pay for recording and their accompanist. It'll be a win-win because they get a nice recording of their playing that they can use in the future, and we get nice recordings for our competition that we can stream.
How do you relax when you aren't overseeing the Stulberg?
I'm very into my kids (Rowan, 8, and Quinn, 5). My daughter is a horseback rider, so I'm learning about horses now because she's only 8. She can't do all the prep stuff on her own, so I'm the one that's saddling and lunging and doing the whole thing. I have to learn almost as much as she does. It's been fun. I am learning something completely out of my element.
We're also outside, outdoorsy people. We (she and husband, Patrick, and their kids) go on nature hikes, snowshoeing and to the beach. We have a 1960s vintage camper that I fixed up, and we take it out all summer, just exploring and having fun together.
— Interview by Marie Lee and edited for length and clarity
http://encorekalamazoo.com/back-story/megan-yankee?fbclid=IwAR3udsywQT-mCswAo6EuFymT2z6mNf2gbIy3ceWa9XSXN2u4Kv8LBzwurrs